"How to Setup Your Bag it ID information"
Step One... Please read all instructions first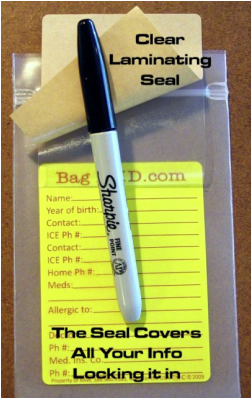 Instructions Included With Each Purchase
1]
Gather all the info you want on your Bag it ID. PLEASE Pay attention to #2 -
​ a Pen will Sun Fade.
2]
Find a good writing Sharpe, NOT A PEN, Use a Permanent SHARPE felt tip marker.Test before using.
3]
"Do Not" remove the brown craft sheet until all information is recorded on the yellow label and the ink is dry.
4]
Fill all your information in on the yellow label.
5]
When your information is complete and has dried remove the brown craft paper from the clear sticker.
6]
Holding the clear sticker up [so it will not touch unevenly]-start from the attached end & press/roll it onto the yellow label below.
7]
You may want to use a credit card to work the air bubbles out.
8]
Your information is now weatherproof and ready to use.
9]
You should now place the Emergency Sticker - supplied /on your: bike, backpack, skateboard, ski, snowboard, kayak etc.
10] You may want to apply a small amount of lip balm to the zipper for ease of use. Also it may not be necessary
to zip the bag at all times, air flow is good but Rain is not.
---
*Add Your Own Advertising Here*
We can make custom stickers: your club or company creating your own Bag it ID
Prices for your own Custom Sticker is Below. A Great advertising Arena.
$ Below Size 2″x 2"- [some restrictions on art apply] other sizes priced upon request. Prices below are for your vinyl stickers w/your logo, [bagitID sold separate] You may buy as many stickers as you like, use sticker on other products. Pricing for our Bag it ID bags will be discounted by quantity ordered [see: contact us] Example: You can buy 150 bags and 2000 stickers. This keeps the price down. Use them on other items or on more BagitID's

---