---
The Best Sports ID & Phone Bag all in one




Now available in Silver & Clear


Buy one @ $7.95 or five @ $4.80 each
You need this ID even if you have one on your wrist.
We have a 100% Guarantee... Just tell us what you need.
​
We will make it right.
---

​What's The big deal - "The self sealing custom label"
A clear poly seal covers all your ID & Medical information
This poly seal is

waterproof

making your information permanent



>

This isn't your mothers plastic kitchen bag. This is pure custom engineering

<




How much did you pay for your :

Phone $300

,

Key fob $95

, Credit Card

$
---
Protect them with Bag it ID $ 7.95 / $4.80 - Priceless - Buy it Now !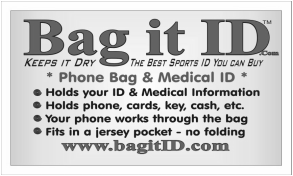 Made in the USA
Other ID companies want your information in their computer...
We don't !
Key Points
1] Choose From Two BagitID's
A]
5
"x 6" -
5 mil thick
NYLON
in structure
B] 4"x 6"- 6 mil thick Original POLY in structure
2]
No folding
it Fits in your Jersey pocket
3]
Water Proof

self sealing Info label
4]
Use your
SmartPhone

while in
our bagit
5]
The"bag it ID"is made

touch sensitive
6]
PREMIUM Ziplock & ROUNDED Corners
7]
Our pouches are
USA made
in our ISO 9001 / Certified Plant
8]
Carry
: Phone, Spare house key, Credit Card, Coffee club card, Cash etc.
9]
The
Multi Task - All Sports ID
holds it all & Keeps it Dry!
10]
Made in the USA [we may of mentioned that]
---
---
Sometimes we need info fast...

Not just a Name
Not just a Phone number

But

all Your vital information

EMS needs to know NOW !

That's why we developed Bag it ID

No one wants to get hurt - but let's help the people helping us !

"So... How can we help?"

We have a 100% Guarantee

We will make it right. Just tell us what you need.

Direct E-mail

floridaron@bagitid.com
Disclosure: We are a website that needs compensation to operate like any other website on the internet. We may receive consideration for our recommendations but we are totally unbiased and do not accept paid reviews or fake reviews claiming to be something they are not. Thanks You, BagitID.